Correction on FFA Indian Taco Fundraiser. This event will be held at Vian before the game on Friday. This is not a Spiro FFA fundraiser. Sorry for the confusion folks.
4th & 5th Grade basketball games for today (11/1/22) at Heavener have been cancelled.
Tomorrow, October 11th, is the last day to purchase a "Pink Out" Shirt.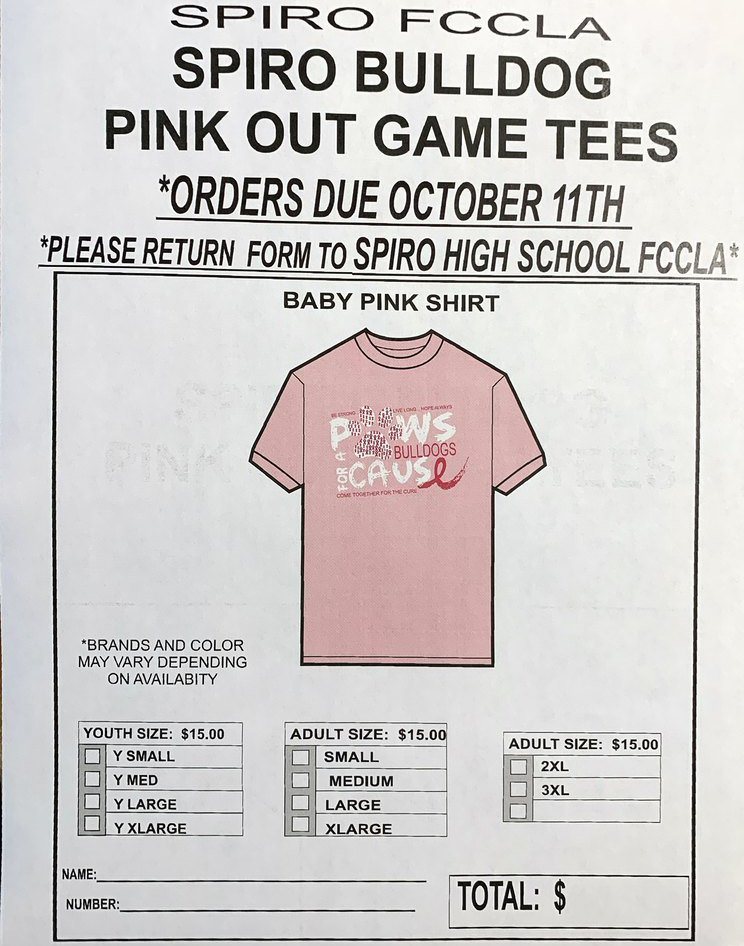 Test
SCHOOL PICTURE DAY IS TUESDAY, SEPT. 6TH Retakes will be October 12.
PTO meeting tonight 6 pm in the cafeteria.
JOM $30 gift cards will be distributed this week. Elementary students will receive their cards Tuesday and Wednesday. Middle and High School students should expect their cards Thursday and Friday. Parents will need to sign for any off-campus students and follow the above schedule.
Spiro community, Due to higher than expected enrollment numbers, Spiro SPIRIT after school program will be changing the enrollment cutoff date from the original date of August 31st, to this Wednesday, August 24th. Any after school application that is received after Wednesday the 24th will not be accepted. Thank you for your understanding. Spiro SPIRIT after school staff
TUESDAY, AUGUST 9, 2022 4:40-6:30 PM - Open House
SPIRO PUBLIC SCHOOL - 1ST DAY: THURSDAY, AUGUST 11, 2022
At 9 AM this morning (June 9) The Spiro Summer School Program will be having a special visit from the LeFlore County EMS Life Flight Helicopter. Students will receive first hand knowledge about flights.
ALL-SPORTS BANQUET INFORMATION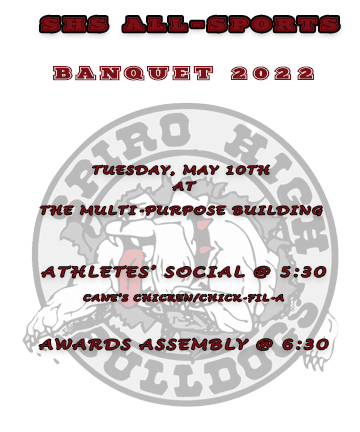 LEFLORE COUNTY BASEBALL TOURNEY SCHEDULE Schedule Thursday Consolation bracket Poteau vs. Panama 2 p.m. LeFlore vs. Heavener 4 p.m. Poteau-Panama winner vs. LeFlore-Heavener winner 6 p.m. Winners bracket Wister vs. Spiro 8 p.m. at Whitesboro
Thursday, 3/31 -- The Middle School softball game with Panama has been cancelled.
HS Baseball vs Keys has been cancelled. 3/21
There will be a JOM/Indian Education meeting held on March 22 at 5:30 p.m. in the Spiro High School Library.
For Planning Purposes Parents/Guardians, It has been and will continue to be Spiro Public Schools' mission to bring the highest quality educational experience to all our students. Up to this point, our goal has been to use face-to-face Fridays in the spring to make up any days missed. The reasoning for that was our concerns with "virtual instruction" being age effective, being academically rich, social development, teacher availability for guidance, and connectivity when using Chromebooks. Issues we navigated during the pandemic of spring 2020. All justifiable concerns. But through recent conversations with staff, patrons, and community stakeholders it has been brought to our attention that many people are currently utilizing these Fridays for scheduling doctor/dental appointments, counseling sessions, older students' additional work hours, and other extracurricular activities that are hard to reschedule or cancel. This is what we have encouraged and hoped would happen since the modified spring calendar was implemented. We now find ourselves in a position to meet both quality academics and be respectful of scheduling issues due to unpredictable weather. Spiro Public Schools will pilot a new program called "Experiential Project-Based Learning" to be used in homes on Friday, March 4th, and Friday, March 11th in place of face-to-face instruction. An informational sheet will be sent home with your student Monday, February 28th with greater details addressing what we believe will be the majority of questions and concerns. If after you receive this information sheet you have questions, please feel free to contact your building principal. We feel confident we have addressed the majority of concerns with virtual learning, but this is a new pilot program and we value your input in making this program a quality/effective option in addressing our student's needs. Thank you for your support and understanding. Sincerely, Superintendent Richard Haynes
Hog show has been moved to Sunday. We will take hogs to fairgrounds Saturday to weigh and get checked in. Check in is from 2:00-6:00. Show will start at 8:30 am Sunday morning. There will be a church service after the barrow show in the show ring. Gilt show will start after the church service. If you have questions call Mr. Sherman Cox.
Spiro Public School will not be in session tomorrow 2/23/2022. Announcement for Thursday (2/24/22) school session will be made tomorrow afternoon 2/23/2022.
BASKETBALL TICKET INFORMATION TICKETS MAY BE BOUGHT AT THE DOOR OR ONLINE Basketball tickets at all levels for the basketball playoff series will be sold online. The schedule for tickets to go on sale is outlined below. Tickets can be purchased on the OSSAA.com homepage. CLASS A AND B DISTRICT TOURNAMENTS—TICKET SALES OPEN AT NOON FEBRUARY 7 CLASS A AND B REGIONAL TOURNAMENTS—FEBRUARY 13 AT NOON CLASS 2A-4A DISTRICT TOURNAMENTS—FEBRUARY 13 AT NOON CLASS A AND B AREA TOURNAMENTS—FEBRUARY 20 AT NOON CLASS 2A-4A REGIONAL TOURNAMENTS—FEBRUARY 20 AT NOON CLASS A AND B STATE TOURNAMENTS—FEBRUARY 27 AT NOON CLASS 2A-4A AREA TOURNAMENTS—FEBRUARY 27 AT NOON CLASS 2A-4A STATE TOURNAMENTS—MARCH 6 AT NOON Cash ticket prices are $10 for all District, Regional and Area tournaments. Cash ticket prices are $13 for all State Tournaments.