UPPER ELEMENTARY VETERANS DAY PROGRAM
SPS
Monday, November 11, 2019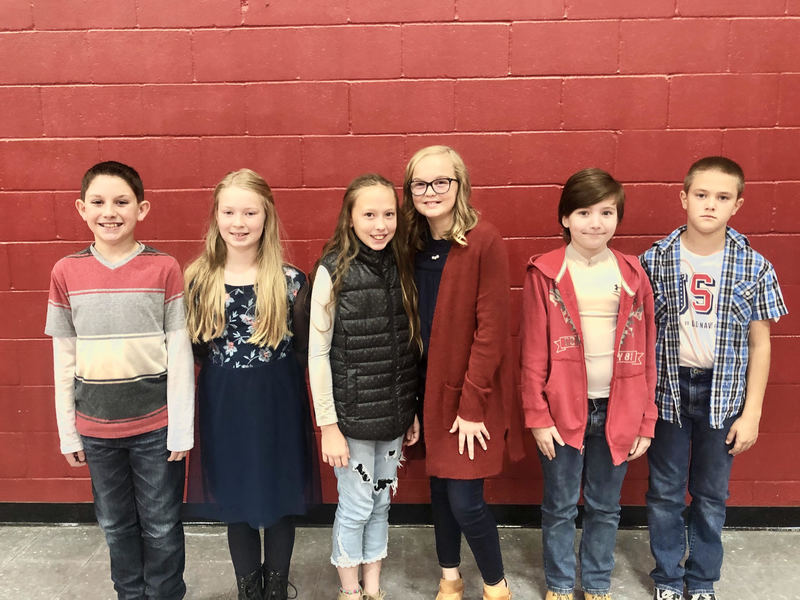 The Upper Elementary's Veterans Day Assembly is led by our students. These students were selected by their teachers. Their duties included: leading the pledge, welcoming our guests, discussing Celebrate Freedom Week, introducing the VFW Auxiliary Post 4884 and the Veterans, leading a moment of silence, and closing our assembly. Pictured from left to right are: Trenton Lafferty, Violah Dodson, Brooklynn Allen, Kamdyn McClure, Mark Nuzzi, and Hayden Woodral.
We would like to thank Garrett Cox for the playing of "Taps". "The Star Spangled Banner" was sung by Hannah Hurst and Adonis Wilson.
Posting of the colors for the Upper Elementary Veterans Day Assembly was managed by George Taylor and Memphis Ward. We were honored to have many veterans in attendance at our assembly.

Upper Elementary held a Veterans Day Assembly on Nov. 11th. Commander Robert Carter and Laura Kay Elmore, from the Auxiliary Post 4884, presented our 5th grade students with a medal for their dedication on flag detail These students are responsible for putting up the flags each morning at Spiro Upper Elementary and taking the flags down at the end of each day. We congratulate these students on this prestigious recognition! Pictured from left to right are: Jackson Spears, James Wortham, Tyrell Jordan, Chase Killian, and George Taylor.